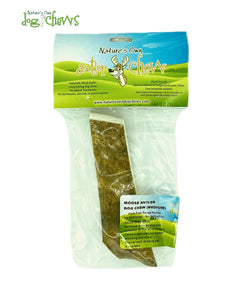 Our Naturally shed moose antler chews are a long lasting treat your dog will go crazy for.  These treats do come from naturally shed antler and hence they will come in many shapes and sizes . These antler chews are an excellent source of glucosamine and chondroitin sulfate. We have various sizes that will suit your dog's chewing style. 
Guaranteed Analysis:
Crude Protein: 40.5% ,Crude Fat: <0.1% , Crude Fiber: <0.1% , Moisture: 11.4 %, Calcium: 12.8%, Iron: <0.1% ,Magnesium: 0.3% , Potassium: <0.1% ,Sodium: 0.4%
As with all treats/chews, it is recommended that the dog is supervised when providing these and that fresh drinking water is always available.  Discard small pieces to minimize the risk of choking.