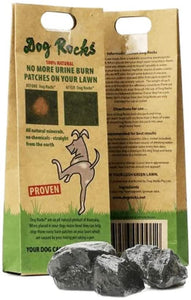 Dog Rocks are a cost effective and natural product for keeping your lawn free from urine discolouration.
The igneous rocks are mined in Australia meaning they are 100% natural. We package these in sustainable, lightweight cardboard pouches to fulfill our eco pledge – we're proud to say we're plastic free.
Per bowl, you will need 1 x 200g pack of Dog Rocks. One pack will last for 2 months and then must be changed to ensure continued results. If you split the pack you will be reducing the effectiveness of the product.
There are no harmful side effects to your pet – no effect on pH balance, the only outcome with correct use will be healthy, green grass!