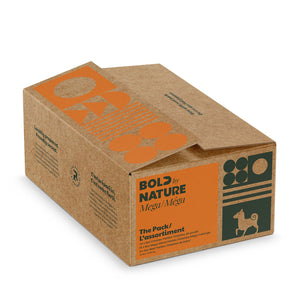 Locally prepared with pet approved ingredients. The Chicken Variety Pack comes with Mega Chicken patties, Mega Blend patties and Mega Beef patties allowing you to switch up the flavours with ease.

Mega Blend patties are a base blend. Add your own vegetables or supplements for a complete meal.
Mega Chicken Ingredients:
Chicken meat, chicken bone, vegetables*, chicken liver & kelp.

Mega Blend Ingredients:
Chicken with bone, beef lung, beef liver & beef tripe.

Mega Beef Ingredients:
Lean beef, beef bone, beef offal (lung, heart, liver), vegetables*, beef tripe & kelp.

*Vegetable mix consists of carrot, zucchini,collard greens & broccoli.