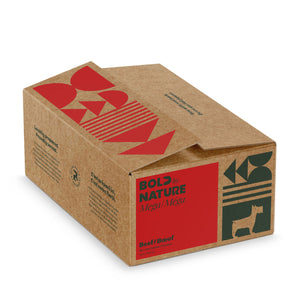 Real meat. Real flavour.. Our Bold By Nature Mega Beef patties are full of farm-fresh lean ground beef meat, triple-ground bone, organ meats and veggies. Bold taste like this is rare.
Ingredients:
Lean beef meat, beef bone, beef offal (lung, heart, liver), vegetables*, beef tripe & kelp.

*Vegetable mix consists of carrot, zucchini, collard greens & broccoli.