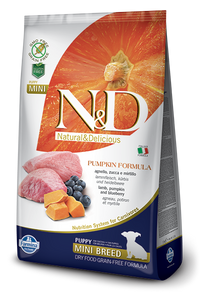 Lamb, pumpkin and blueberry. Complete food for puppies and gestating or breastfeeding bitches.

Natural & Delicious can prevent obesity and diabetes thanks to its low glycemic index obtained by the absence cereals, allowing a modulated release of energy during the day;
GMO Free;
Gluten Free;
With only natural antioxidants, tocopherol rich extracts, which allow a natural preservation;
Kept in a protective atmosphere. During the packaging step, we introduce nitrogen into the bags to replace oxygen granting a natural preservation of the product.
Rich in high quality vitamins that, added "cold", have a longer lasting effectiveness.
Ingredients: Fresh boneless lamb (24%), dehydrated lamb meat (24%), pea starch (20%), chicken fat, hydrolysed fish protein, dehydrated pumpkin (5%), fresh herring, dehydrated herring, dehydrated whole eggs, fish oil, pea vegetable fibre, dried carrots, dried alfalfa, inulin, fructooligosaccharides, mannanoligosaccharides, powdered blueberries (0.5%), spinach powder, psyllium (0.3%), dehydrated apple, powdered blackcurrant, dehydrated sweet orange, pomegranate powder, sodium chloride, dried brewer's yeast, turmeric root (0.2%), glucosamine, chondroitin sulphate, Marigold extract (source of lutein).

Available in sizes 2.5kg and 7kg