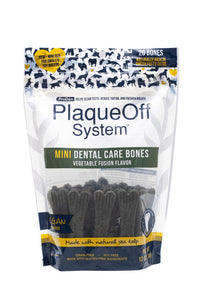 ProDen PlaqueOff® Mini Dental Bones are dog chews with the PlaqueOff System® which help clean plaque and tartar by abrasive action. Used daily, this natural product made with sea kelp can complement ordinary dental hygiene.
Available in two tasty flavors, Vegetable Fusion and Vegetable Fusion Blueberry.

This product is not recommended for animals being treated for Hyperthyriodism.