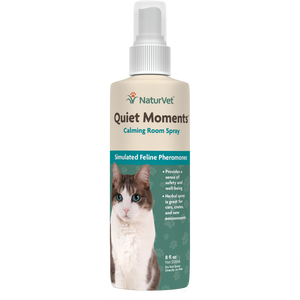 Quiet Moments® Cat Calming Room Spray is for use with cats and kittens 3 months and older.
Formulated to simulate the type of feline pheromones that provide cats with a sense of safety and well being. Your pet will find comfort in the light fresh fragrance.
Suggested Use In:
Cars
Crates & Cages
New Environments
Cat Condos
Pet Beds
This product can also be used with Quiet Moments Gel when extra support is needed for occasions such as: Fireworks, Traveling Visits to the Vet, Grooming and New Environments.
Cautions:
Do not spray directly on people or pets.
Quiet Moments Calming Room Spray is not to be taken internally.
If accidentally sprayed in pets' eyes rinse with clear water. Use only as directed. Before using on fabric (carpet or upholstery), test a small inconspicuous area. Keep in a dry, cool place.